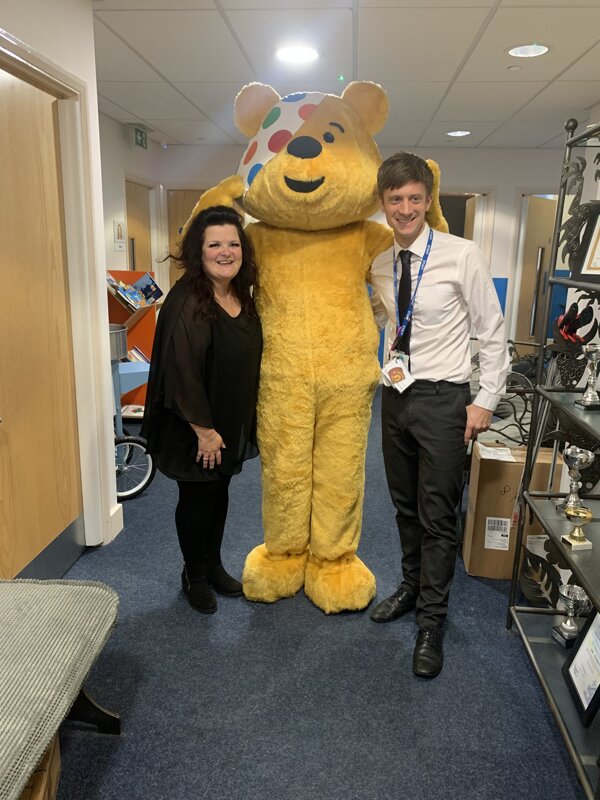 FROGGY STARS - STRIVE -TEAM - AMBITION - RESILIENCE = SUCCESS
Week – 17.11.23
Firstly, I would like to thank our school community for their support for our annual Children in Need Appeal. We have raised an amazing £390.50. In the lead up to Christmas, we are supporting Sandwich Angels appeal for toys, they are looking for any new unopened toys that can be distributed within our community. Please send any donations into school before 1st December.
Within our assemblies, we have focused on anti-bullying, the children have explored different forms of bullying and why it is important to speak out. At Flowery Field, we encourage children to celebrate differences, our curriculum offer ensures children have the opportunity to share what is special about them and their families. Through our curriculum children are introduced to different cultures, religions and practices from around the world. We are extremely proud of the way our children approach these areas of the curriculum, demonstrating sensitivity and respect.
Our learning continues to be shared via our school website, Twitter and Facebook pages. the Facebook pages to enable you to share in your children's successes.
Finally, we appreciate that some families are experiencing financial hardship at this time and would like to offer our support in the run up to Christmas. Please speak with a member of the pastoral team if require support.
Wishing you an enjoyable and relaxing weekend
Mrs Claire Silk 
Upcoming Events
Friday 1st December Before and after school clubs finish
Monday 4th December Christmas Dinner Day R and Y5
Tuesday 5th December Christmas Dinner Day Y1 and Y3
Wednesday 6th December Christmas Dinner Day Y2 and Y4
Thursday 7th December Christmas Dinner Day Y6
Thursday 7th December Christmas Craft (Flowery Friends event – ticket only)
Tuesday 12th December Nursery Festive Event 11am (15 hours) and 2 30 pm (30 hours).
Wednesday 13th December Y2 Nativity (Parents welcome)
Thursday 14th December Y2 Nativity (Parents welcome)
Friday 15th December Reception festive event (Families invited from 2pm)
Monday 18th December Christmas Party Day (Wear party clothes)
Flowery Friends Social Event 6-9pm in school (Parents only)
Tuesday 19th December School closes for Christmas at 1 30pm (Non Uniform)
Wednesday 3rd January School closed for INSET
Thursday 4th January School reopens to pupils
IMPORTANT – Online Safety
Whatever the age of your child they will receive good online safety education in school, from early years through to college. But as parents and carers we want so support you in providing information about the risks and issues our children may face online.
We have obtained resources from Alan Mackenzie who specialises in the ever-changing and evolving area of online safety.
This week the focus is on Youtube. YouTube was originally designed for persons 13 years and over. If you're not aware there is another version of YouTube which is specifically for younger children, called YouTube Kids. However, the content on YouTube Kids is for very young children, so it's not a surprise to see younger children using the main YouTube service. Please click on the link to find out more: https://vimeo.com/847256970/b62ac1c2de?share=copy
Useful Links:
Features in YouTube which can help you as a parent. This link has 5 short videos explaining what these are and how to set them up:
https://www.esafety-adviser.com/youtube-parental-restrictions/
Information on the Google Family Link app, which also includes how to set up a Google (plus YouTube) account for children under 13:
https://families.google/familylink/faq/#:~:text=Parents%20can%20also%20create%20a,device%20with%20their%20new%20account.